Like it or not, medical professionals have seen a major uptick in clotting since Covid's arrival over three years ago.
One screening tool that has always been helpful and becoming even more useful these days is the use of Digital Infrared Thermal Imaging (DITI) or Thermography.
Thermography has always been an invaluable tool for screening all sorts of health issues.
Here's a list that is by no means exhaustive!
Breast Health/Cancer – especially Inflammatory Breast Cancer
Breast Cancer Management/Follow-up Assessment
Thyroid Disorders
Carpal Tunnel
Reflex Sympathetic Dystrophy Syndrome (RSD)
Temporo-Mandibular Disorder (TMD)
Muscular Strains/Sprains
Stress Fractures
Fibromyalgia
Unidentified/Undiagnosed Pain
Dental Issues (inflammation/infection)
Peripheral Neuropathy/Numbness and Tingling of hands/feet
Sciatica/Nerve disorders
Deep Vein Thrombosis (DVT)
To learn more about thermography and our services please visit our websites HERE and HERE.
What is Deep Vein Thrombosis (DVT)?  In essence it is a stationary/non-moving clot of significant size in a major vein – usually in the legs, hips or pelvis (although can be anywhere in the body). It can break off and travel to the rest of the body – namely heart and lungs and cause immediate death.  So, a DVT has the potential to become life threatening and quickly.  Once it moves it is called an embolus/emboli.  Once it reaches the lungs it is called a pulmonary embolus/pulmonary embolism.
Thermography has been shown quite useful in screening for DVTs.  And due to increased clotting potential, interest in Thermography is sky-rocketing in the last 3 years.
A study from 2015 showing the effectiveness of Thermography in screening for DVT HERE and one from 2017 HERE.
                                           👇 "Leg pain" – identified as "vascular"/DVT on thermography👇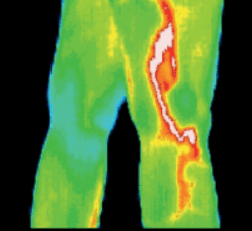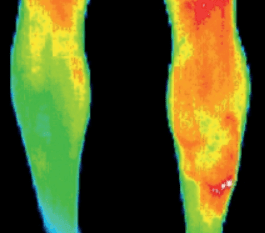 Thermography, along with lab tests like D-Dimer, Fibrinogen and C-Reactive protein can help assess one's clotting potential/danger in this new health "era".
I've tested A LOT of people over these last three years and am consistently blown away with the elevated clotting markers in people of all ages – and all possible vaccination histories.  Given the increase in these markers in the last 3 years due to the nature of Covid spike protein, regularly scheduled thermography can be/has been an invaluable tool in assessing one's risk – along with bloodwork markers.
Now, I don't want to pretend that thermography is perfect and will always find the problem – but it IS a wonderful, non-invasive SCREENING tool to learn more about areas of inflammation or concern in your body.  It is NOT a diagnostic tool (neither is an MRI, CT, Ultrasound or Xray by the way!).
Most of our clients get an initial full body or upper body scan, then three months later it is recommended that women get a repeat breast thermography (to establish a breast health baseline) then repeat a full or upper body scan each year thereafter.  This then, in essence "maps" your body's physiology and any notable changes that might be leading you to a diseased state over time.
Thermography is an invaluable service we have offered for 12 years now – and we only use Meditherm equipment – the state of the art, highest quality technology available – no other equipment compares – and if you see any Meditherm provider across the world the interpreters will have access to all of your images for comparison!
We are excited to announce that we've added a second location in the Raleigh, North Carolina area as well as a new location in the central Florida Panhandle area – Chipley, Florida!
We are now actively scheduling all locations!
North Carolinians – call 919.909.0881
Next Dates:  5/10/2023 and 5/26/2023
———————————————–
Floridians – call 850.326.8805 or 919.909.0881
First Date:  5/22/2023
————————————————
Oh yeah – here's my FDA-required statement:)
Disclaimer:  Breast Thermal imaging is an adjunct (complement) test to other primary breast screening and diagnostic imaging studies such as Mammography, MRI, or Ultrasound. Patients should follow the recommendations of their primary healthcare provider for routine screening as well as for diagnostic imaging and/or additional work-up.
(although as I stated above, Mammography, MRI and Ultrasound are NOT diagnostic – a biopsy is however!)
Hugs!
 Dr. K
INTERESTED IN CHATTING WITH DR. KELLEY CLICK ON THE BUTTON BELOW 🙂